Hello there.
My name is Tami, but on our list I go by TamiShan.
My birth name is Tamering, my spiritual name is Shanoshea.
Seeing as I am not totally integrated yet, but working on it, I go by TamiShan. You see? :)
I've been involved in our spirituality for around 7 or 8 years. I am beginning to KNOW WHO I AM, but I am yet working on being WHO I AM. I've come along ways in just the last couple of years.
I AM trying harder then anything to practice unconditional LOVE and to be who I AM, and making this web page I really think is going to help much.
My hobbies and interests are anything that has to do with the outdoors. I like camping, hiking, walking in the trees, planting flowers, gardening, playing softball (really! I do!) riding horses, snow and water skiing, playing with my cats, feeding my fish, anything that has to do with nature and animals..........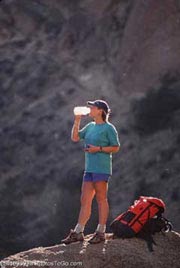 This is not me in this picture, or anyone I know, but I sure do like the picture, AND I SURE WOULD LIKE TO BE THERE!!!! LOL!!!


MY FAVORITE THINGS! :)

Here are some of my favorite movies....

Horse Wisperer.
Everything That Rises.
Galaxy Quest. This was Great!!!!
E.T.

Most movies that are happy, funny, lots of science fiction,
positive, but I do like lots of action too!

Here is a list of some of my favorite music:

Enya, U2, Big Head Todd and The Monsters,
Boston, Aerosmith, Eagles, Man! The list just goes on and on!

My favorite animals are:

CATS!! Birds!!! And Horses...
I like ALL animals, but these are my top favorites!