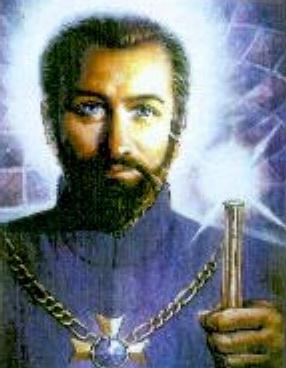 A Discourse on true love, from St. Germaine given through Isaac Geroge.



"Good evening one and all. St. Germain here,
how are you?
(group response). Excellent! We applaud you,
and we honor
and acknowledge you.
True Love! Anyone here have a feeling, have an
ideaa
concept for themselves of what true love means
to you? We are
asking for a show of hands! Yes, this is
audience participation."

Audience: "Unconditional Love."

SG: "Yes, true love is unconditional love. How
do you see that
in the context of relating to a brother or a
sister? Particularly, a
lover or a partner? How would you apply that to
the sensation, or
the idea, of what you call "falling in love?"
Is there a
similarity? We are putting you on the "spot",
yes? (laughter) True
lovehmmm.

Audience: "When you fall in love, you lose your
judgment."

SG: "Ahh, see! You all are wise beyond your
recognition! Did
everyone hear what this one said? When you
fall in love you
lose your judgment. To some extent you also
lose your perspective,
right? To some extent you also lose your
mind!! You begin to
operate in a place of trust. You begin to
operate in a place
that, there is hope again. You begin to
seewhat? You think you
see your salvation in the "other." Has that
been your experience?
You see that someone comes in and makes you
feel so special,
so complete, that you cant imagine your life
having existed before
they entered your life, and you cant imagine
the rest of your
life existing without them in your life. Is
this not so?" Who here has
not had this experience?
Everyone in this room on some layer and level
from a point in
childhood, to the point where they are sitting
at right now in
chronological age, has had the experience. Has
had the
experience of encountering an entity, another
being that has
affected them so profoundly. We would wager that
there is not a single
one of you that has not forgotten that moment -
has not forgotten the
recognition that was faced in that instant.
And what was the recognition? Was it the
recognition of the
Beloved? To some extent, yes. But it was also
a recognition of
the qualities that you saw in the Beloved, that
you appreciated, that
you absolutely trusted, that you had no judgment
of. But what you were
seeing in that moment was so glorious that you
lost sight of the fact
that what the other person was representing to
you were the "lost" parts
of yourself.
So were here tonight to explain to you, to at
least share with
you some new possibilities. Were going to
discuss first, very
briefly, the history of human love, earthly
love, and how it came to be.
And how it is in some ways both a blessing and a
curse, and where it
(human love) is trying to emulate a deeper and
stronger
connection that you are all seeking, that
yearning that you are all
carrying inside of you. Who here does not have
that yearning?
Honestly. That is the thing that keeps your peace
disturbed. That is the
thing that keeps you driving forward, that keeps
you interested in life
itself.
It is some sort of feeling, some sort of inner
acknowledgment
that somewhere, somehow, there is another
component of you that
completes you, that makes you feel at-One
again.
So, the first part of this is taking a look at
what weve all
played with in this arena, myself included.
This was part of my
ascension process as it is part of yours. What
is ascension?
Coming into a new perspective, a new
consciousness. It is all the
metaphysical "trappings" yes, but it is more
than that, it is a
change of heart.
It is a change of your perception of what is
"true Love." The only
true love, first of all and foremost, is not
just the setting aside
of judgment, it is that which gave birth to all
of you.
True love is that which you name God, Spirit,
Goddess, the All
That Is, the Alpha & Omega. That is True Love.
And what has Love
done? What has Love done, but gone and decided
to create the
objectification of Love in order to have a
direct experience of it
rather than just a knowing of it. And what
happened is the
objectifications all decided to go off and
play out an experiment. And
that is what God wished to do. For how could It
have an experience
of Love unless It were to experience every aspect
of it, every potential
of it, including it oppositehate, fear.
This journey has been evolving now for many
billions of years,
many eons. And where the human race is right
now is becoming a
little bit more like a teenager. Like an
eighteen year old. About
ready to assume the responsibilities of an
adult, about ready to
love as an adult would love. But with one
distinct difference, the way
a child loves. The way a child wishes to be
loved, is the closest
thing to the way the Creator created it to begin
with. That which has
created you, instilled within you the full
spectrum and gamut of Love
Itself, and all its opposites, all its
counterparts. So when you all came
here to learn how to play, when you all came
here to experiment in the
material Universe, we took with us this
Emblem of Love, this core-seed remembrance, of
the Love the Creator
had for that which was created, and the
core-seed remembrance of
something else.
When this division, or fragmentation and
subdivision of various
wavelengths of Being occurred, there was one
final step in the
part of the monad or Oversoul before
incarnational experiences
could be gathered. There was the splitting of
polarity of the
entity, or Oversoul. This monadic split in which
half of the
polarity of this archetype, this being became one
polarity which you would
call masculine, another which you would call
feminine - the
principles of Creation and the Void in
microcosm. Then these were
projected into various personalities and
various bodies here on this
world, for the purpose of gathering experience
and learning lessons.
Evolving itself into a greater understanding of
itself -into an
understanding of its relationship to All That
Is. True love in
action, true love without judgment, true
loveunconditionally, from the
perspective of the experiencer, the Witnessyou.
You are the ones on the front lines. You are
the ones who get
to experiment with all of the issues that have
to do with love. You
are ones that have created the myriad forms,
experiences and
experiments. You have made decisions about love
that would have
never occurred in the mind of God initially. You
have been very
fruitful and very trust-worthy for being able to
explore the
extremes of love.
And heres what happens at that split, the core
memory of both
beings is held in the imaging of the heart and
there is always
the urging on, the yearning, the longing to
complete that union
once again. And yet the soul and the Creator
in its wisdom cannot
allow that to happen until all experiences are
complete, until all
karma is balanced and finished, all debts are
paid, and all the
growth and evolution necessary for that
particular Oversoul has
reached a status of completion, then it can
move into another
dimensional experience. It is the law, simply
the law of creation.
So, you find yourselves now in the situation of
creating all
these paradigms, all these different situations
on the earth
regarding families, regarding the ways societies,
religions and so forth
have all created certain rules, certain
restrictions, certain things that
dictate society to work in a particular way - to
be able to function
sufficiently. To be able to have peace among the
brothers and
sisters. And to some, the beliefs can only work
so far and then they
become prisons in themselves. And true love
becomes
squelched. It becomes imprisoned also. So what
happens whenever
there is the choice between love and feeling that
feeling of love for
the first time, as opposed to an arranged
marriage - what do you think the
human soul is going to do if it is told that it
cannot be with that which
it loves, what the beloved seeks, as opposed to
being with someone
that it has no connection to?
We will explain this phenomena. Each of you
are of a particular
frequency. You are a particular, unique aspect
of the Creator.
There is not one of you that has the exact same
matching resonance
or harmonic to another in this particular room.
However, there is
a counter part of yours, whether in embodiment
or not, that is
the exact match. And there are other beings
that are very close in
harmonic resonance to you.
You sometimes meet someone and think it is just
a soulmate
connection, or perhaps you think it is
something deeper than
that and you may call it Divine Compliment or
Twin Soul, or other
self. It can also be a portion of you in
another body, another
personality projection from the Oversoul. No
matter what label or
manifestation of that it is, the driving force
behind every one of your
emotions and every one of your desires and dreams
to feel acceptance,
to feel as if you are seen, is based on this
memory. And the memory is
indestructible and in violet.
So does that mean that all of the relationships
that you are
currently in are invalid? No, for each of your
twin flames, that
which is the core essence of the Oversoul at the
monadic level,
encourages that you experiment and learn and grow
and remember
through all of your relationship experiences.
There is no other way to do
it. It is not at all appropriate to all of the
sudden, when you come to
this awareness of comp-letion, to immediately
cut-off yourself from all
other relationship experiences. The whole purpose
is to experience and to
explore the world. So what is always the
driving force here is the
search for true love. The search for
somebody, or some being to come
into your field and say, "Hey I know you. And I
see you for who you are
and I accept you for who you are and lets go
off hand-in-hand together.
I dont care if your married. Its all
right, we are just going to
play for a while. We are going to remember
what it was like to be
children in the garden." And this is an
appropriate time to tell you
a bit of my
adventure. I was quite the Casanova, in case
you dont know. I was in
with love women. I was in love with "the woman"
as it was
manifested in many different bodies. You can
call that "Divine
Mother worship", if you will. Part of my path
was seeking that
completion, seeking that union with "the one"
and I thought in every
moment that I fell in love that I had found her.
I thought in every
moment, but sometimes the next morning I wasnt
too sure. But I was
always willing to try again. I was always
willing to open my
heart again even after it had gotten stomped on
or when I had been
chased off by the fathera lot of pitchforks
and blunderbusses
were waved at meit was not fun. Well, they
didnt have automatic
weapons in the fifteenth and sixteenth
centuries. (laughter)
So, it was my journey to discover the part of
me inside, that I
was seeking outside myself. You may say, "But
Germain, it is not
as much fun as finding it in someone else. And
how do I know it
inside of me? How is that important? How does
that make any
sense? Well if you indeed are androgynous
beings when you are not in
this form, guess what, you are the beloved and
you are that which is
seen as the beloved, simultaneously at core
essence. Now you cant
hold that thing in your arms, you cant make
love to it, you cant buy
it chocolate cake and flowers, but you can
pretend. You can
pretend to start having true love for you the
way your Creator has it
for you.
Let me complete my storywhat I eventually
found myself
doing is realizing that there was not a waste
to my experience. That
indeed, with every choice to love again, with
every choice to
become vulnerable, with every choice to see
mirrored in each
individual relationship a certain aspect of
myself that needed loving
as well, I was taken to the next level, and the
next level and the next
level. My soul kept egging me on. Until when?
Until I found her. Until I encounter this
incredible thirteen year old
girl standing in a vineyard one morning as I was
walking by. And I
recognized her. And she saw me. And I was
helpless. And this one had come
back for me. For it was time for me to leave this
plane. My search
was over. Yes I was called the "Wonder man of
Europe", and I had
disturbed many heads of state. (There were those
heads of state that
would not listen to advice of mine and lost
their heads, Louis and
Marie Antoinette.)
But it was time to leave. I had seen my hopes
and dreams for
the first democracy in Europe fall into ashes
and terror. But in the
eyes of this one who beheld me that day, it
didnt matter. For
I found home in those eyes. I had seen myself.
And she declared
to me, "I am your mirror." And in that moment
my searching, my fear,
was gone. And we left this plane to be joined
once again to work in
service for you, for this planet from where we
now are.
Please understand, that this is the journey you
are all on. You
all are entitled and have a right to experience
it. There is
nothing wrong with falling in love. What has
been the error in the
human experience has been forgetting the self
in the process.
Projecting your worst fears of abandonment.
Projecting your most
deepest concerns about being wanted again on to
the other. All of the
things from the past now take over and control
the present.
Everything you have felt as far as obligation,
commitment,
everything, starts becoming the thing that
controls the relationship
rather than the relationship just being that love
unconditionally
without judgment. See that person for who they
are rather than who you
would like them to be.
Do you not see that true love means allowing,
just allowing.
Allowing yourself to have the experience of
that. Allowing the
other person to have their experience of that.
And if you choose you
can compare notes and you can talk about,
discuss it. But let not
the mind rule the experience. Let the heart
rule it. Why? Because
many hearts have been broken by not listening
by not listening to
them. Many more hearts have been broken by your
Spirit not getting
your attention in time either.
How do you get into that place of unification?
When you are
making the correct choice. It is something to
feel an energy with
someone else and feel that recognition and feel
that true love. It
makes your whole body buzz, it makes your teeth
rattle, it makes your
eyes water, it makes you feel giddy, high,
unstable, unable to go to work
the next day. What do you do with that feeling?
You
allow it. How do you work it with the other
person? You talk about it.
You communicate, honestly. You dont hide it. You
dont judge it. You
dont sit there thinking, "This is inappropriate,
I cannot do this." When
you have gone to the judgment of
inappropriateness you have taken on the
belief system of your parents or your church,
or school system, or society
at large that says, " Youre not supposed
to feel this good. Its
inappropriate for you and now that you have
been on your path of healing
and doing your twelve step program it is
certainly not healthy."
You can be deceiving yourself and be in
illusion. We have a
little thing about illusion to talk about.
Consider the possibility
that illusion is the scent of something real
coming close. Behind
every mask is a face. Never forget. Behind
the fog there is
something solid and real. Be not too quick to
judge the illusion, for
it is your pathway to that which you are seeking.
And so when
you are in a relationship, when you are in
love, and we prefer the term
"rising in love" not falling in love, (rising to
love rather than
falling, which represents going to sleep, going
unconscious, forgetting
the self, living only for the beloved, not
exactly the best way to
handle the situation )you remain sovereign and in
empowerment
holding to who you are and absolutely allowing
the vulnerability to
be there so that the energy can flow. On
whatever layer or level it is,
friendship, platonic, sexual or all of the
above, it does not matter.
You all have this thing too about sex, as I
did, until I became to
understand what the sexual energy represented.
It was synonymous
with love as long as the heart was involved and
the heart chakra
was open. The sexual creative energy is the
stuff that builds
stars. It builds relationships, it builds homes,
it builds families, it
builds civilizations, it builds universes. Its
the same thing. Stop
separating it please. It is not appropriate any
more.
Humans have for too long been putting things
into boxes. We
have all done this. We say, "Ill put sexuality
over here and I will put
love over here. And maybe once and a while they
can visit each
other. " And for goodness sake we cant let it
be lustful, for that
would bring your conscience into it. And your
conscience is
dictated by programming and beliefs. Your
conscience is not
necessarily what you have been instructed it is
that being a
function of the souls ethical and moral system.
It is a learned
response, just like jealousy is. It is a learned
response based in fear
not love.
This is another way that the ego plays a trick
on you. Its part
of the fear patterning that is already built
into the system until you
change the program. The only way you can change
the program is to begin
to examine how you behave with the idea of their
being a place of
spiritual lust. A place where the heart and the
groin can meet, and
Spirit is asked to participate in that and
elevate the entire
experience into one of wholeness rather than
separation.
This is transcendence and ascension. This is
what you do when treat any
being in this way on any level of relating. Or
even how you relate to
your cars, your business, your life situations.
Please invite Spirit
into each one of these things and you cannot do
anything accept "Thy
Will Be Done."
By intentioning that, you leave yourself wide
open to become
an agent of the Almighty. It will manifest and
if you try to put the
brakes on it you will experience what the
allegorical Adam and
Eve did in the bible, while walking around with
fig leaves on and
God came walking through the garden and said,
"Why did you do
that."
And they replied, "Well, the serpent told us we
were naked."
And God said, "Who told you that? What is so
shameful about being
naked?"
What is the allegory there? The allegory is:
Who told you that you had
to hide love? Who told you not to be vulnerable
and not to
show who you really are? Who determined for
you that some
how or another, that which is of the Earth
needs to be rejected
and renounced and that which is of Heaven hates
the Earth? Where
did that come from? That is the ultimate form
of separation and
denial.
True love can be the thing that happens to two
souls across a crowded room.
And in that instant they see and remember who
they are. They see and become
who they are, even when they could be judged as
being inappropriate by all
those around them. They feel it. How many here
have a seen a couple that
is so expansive that you almost feel that you
need sunglasses to be able to
view them?
When you are in their presence the energy of that
love is palpable. It
actually makes you giddy inside and it almost
makes you weep. Or it almost
makes you so flushed and sexually excited that
you wish you had what they
have. Have you ever had that experience to be in
the presence of true love?
Some beings when they have reached that place
of being able to see the
twin in themselves, they can just by their
presence exhibit love and send
all into ecstasy without having to be with a
partner. Love is like that.
Love is like lightning. Love is the Holy Spirit.
The tongues of flame that
descended on the disciples was not just a
transcendental experience it was
an erotic experience. Spiritual and erotic at
the same time. Those who
have had the experience of kundalini understand
what this means. It is the
fire of God. This is your birth right, to play
with it, to create it, to
grow with it.

We tell you from our perspective, it is most
important to recognize the
value of one on one intimate relationships and
creating new forms of them in
this day and age, rather than relying on trying
to fix up the old ones. It
is very important for you to also take the time
to look at that in the
context of the larger communities. It is
sometimes easier to just go and
purchase a new car rather than trying to put new
tires on a car that is old,
tired and run down with an engine that needs
work. It is always
appropriate to say at some point, as the Creator
does, "Behold I make all
things new."

This is your task. It is our joy to do this with
you. Please when you look
at your beliefs around how relationships should
be, examine them honestly.
When you look at how you are with yourself please
also be honest, but temper
your honesty with compassion. Temper your
perspective with the eyes of
unconditional love and allowing. This is the
taste. This is the beginning.
The whole point of the next age is love. Love
unconditional. Love
Divine. That which you saw Master Yeshua
demonstrate. It reaches into the
heart of every type of relationship you could
possibly create. It is
present with the lovers in the hotel room as it
is present with those in the
sacred temples. As it is present with those who
have learned to hold the
beloved with themselves, because they have no
longer the need or issue with
having to have the outer expression. Its all
appropriate. It all works as
you would say. Whatever feels right to you is
the thing that you follow not
what you think that you need to. It is human
nature, as I know, to be able
to look at something and compare yourself to it
and say, "Maybe I should be
like that." Please, do the Creator and yourself
a favor and be who you are.
Everything would fall into place so much
quicker if you all could do
that. The tumblers in the lock would go chink
into place and you would have
Heaven on Earth. If everyone would absolutely
trust and follow their Spirit
without hesitation and trust their hearts there
would be no problems. That
would be the end of all problems. And you would
be on to creating wondrous
and creative things, music, art, literature,
clean up the environment.
Whatever you choose to do. However you wish to
play.

The thing I will leave you with about true love
is that YOU ARE TRUE LOVE.
You couldnt be here doing what you are doing
unless you were doing it from
the position, from indeed, the heritage and
birthright of true love. To
come into physical embodiment at this time
knowing what you have known,
experiencing what you have experienced when you
could have just as easily
have said, "No, I think Ill stay in the fifth
dimension. Ive had enough
of that place." You did not choose that. You
chose true love. You chose
the true love that you have for this planet. You
chose the true love that
you have for each other. The true love that you
have for humanity, for your
brothers and sisters. That is what brought you
back. So here you are. I
cant see a better example of true love than
that. And in terms of how you
express it with each other, the best advice has
already been given. It was
given by our older brother, "Be kind to each
other. Love one another as I
have loved you." And know this the love of a
friend to lay down their life
for their friends is the ultimate form of love.
Meaning to lay down your
life for some one you do not give yourself away
but in the giving away you
give more of who you are and still remain
yourself. True love sees nothing
other than itself. Itself. True Love. Each one
of you, all of you are
that, and I bow to it.

This discourse is complete. Go and experiment
first with the inner self,
use a mirror if you like to see who you are. Put
yourself in the position
of being the twin observing who you are in this
reality. Love that first
and foremost, seeing also in it the Creator.
That which is the
Father/Mother in you. Beholding you as That.
Surrounding you with its
unconditional love and compassion. And then take
that out into the world
into your relationships into your friendships
into your business
partnerships. And always keep looking and
smiling at the next pair of eyes
that smiles back at you. They may be smiling at
you because that is the
next step for you. Perhaps the next calling
forth from your twin saying,
"Here I AM. Im in this one. For now." Love
well. Play well. And be in
Peace. All is well in the realm of true love.
Thank you for allowing me to
share this message. Namaste, and God Bless and
may the Christ in you guide
your way.








Enter supporting content here